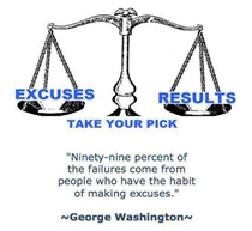 Stuck in a rut and believing this is as good as it gets? So many of us, myself included, are all too frequently caught up, and stuck in a state of perpetual potential. You know that state, where either consciously or unconsciously you are thinking "I could be ……..but……." It could also be described as being a dreamer - where you have, or had, wonderful intentions and plans but are not actually doing any action to get things happening and your feeling helpless and stuck.
Perhaps you have reached a crisis point in your life. One where personally or professionally it is 'make or break' time. Rather than feeling dejected, awareness of this state of mind and acknowledging it is a great start. Life doesn't get better with hope, it gets better with change. So if what you are doing, or most likely what you are not doing, is not producing the results you say you seek - change something. Open your mind and yourself to the realm of possibility and explore what could be.
Don't go getting all radical and change everything immediately - metaphorically throwing the baby out with the bathwater. Take a good hard look at the way things are- no pretending, no hiding facts, and no blaming others – make this a real warts and all hard look. What is working positively in your life right now – and what is not? Is it that 'not' part that keeps you awake at night? Do you allow the 'not' part to stay unchanged in your life because 'that's just the way it is'?
I shall put this into another perspective for you to consider. Your motor vehicle- be it a car, ute, van, truck or 4 wheel drive, whatever – is running inefficiently. In fact so inefficiently, as to being ineffective because it has actually conked out and let you down a couple of times. Let me assume the potential of your motor vehicle – that by being reliable, and safe, it serves a multitude of purposes- personally for yourself or your family to schools, day trips and holidays or professionally for getting to work or carrying out a business. Would you shrug your shoulders, effectively saying 'that's just the way it is' and do nothing? I agree that money could be an issue in addressing this particular problem. So some exploring of possible ways around that would be necessary- as opposed to stating 'can't afford a mechanic' and doing nothing. For example, if neither you nor any of your mates are mechanically minded, what potential to post on the local Community noticeboard an exchange of services – you may be able to offer painting, 'around the house' repairs, lawn mowing, gardening, ironing, cooked meals or babysitting.
So where in your life right now are you making excuses? Consciously or unconsciously choosing to ignore any possibility for improvement – even though it may require nothing more complicated than to change your approach and the way you are thinking. One big issue for many, for example, could be the realisation that now is that time in life when we can no longer blame our parents for the way we are as an adult. Because now it all comes down to our own choices - not someone else's choices ten, twenty, thirty or forty+ years ago….. It's OK to look at the past- just don't stare at it. Benefit from the experience, be thankful for the positive aspects, acknowledge and learn from the negatives, and then move on. Leave it in the past where it belongs – none of that can be changed. You can however change the way you choose to progress, and by realising and tapping into your own potential, to move forward.
I saw a great quote recently: "Tomorrow is the busiest day of the week". Don't put off til tomorrow, what you can make a start on today. Investigate adult education options if you dropped out of school- there is a vast range of type, style and budget available from community centres right through to online and mature age university courses. In fact, libraries are free! If reading presents a challenge due to eyesight issues, or your skills are not at a level where you feel comfortable exploring the wide range of offerings on the library shelves- discover audio books. Use the library's computers too if you do not have one at home. Do yourself a favour and investigate. The payoff will be improved self-esteem and a happier you - with a bonus which may just be better employability.
Ask for help should you need it. There are services available whether you seek assistance personally or professionally – and my experience indicates that your personal issues will impact upon your business or professional life, in the same way that business/ professional issues impact upon personal lives. Take responsibility for your life right now- be aware of the example you are setting to those around you- your children for example.
Be responsible for 100% of all your actions and also 100% of your inactions. If something is working well, do it again - often. If something is not, then change it. Life is too short for mediocre- to lay down in a rut and let life walk over you. How would you want to be spoken about by those around you when it comes your time to leave this life? I trust you will strive to always make a difference in some positive way, and remember it is not about size or the dollar value.
Whilst not all of us are destined for great wondrous works that change the world, never allow that to detract from aiming to be the very best that you can be and not stuck in a state of perpetual potential.